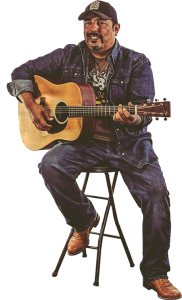 Born in Kansas City, raised in Wolcott, KS and son of a Tejano Music Hall Of Fame Vocalist, Buddy is a touring singer/songwriter and Latin Grammy nominated songwriter/musician who transplanted to Texas at age 11.
Making his mark on the music world with his timeless ability for writing, performing and having memorable melodies, he has a style that is heavily influenced by artists like his biggest heroes Radney Foster, Foster and Lloyd as well as the King of Country, George Strait. Other influences include Texas music scene artists and singer/songwriters such as Walt Wilkins, Randy Rogers Band, and Zane Williams to name a few.
After playing music as a member in other artists bands and touring the U.S., Mexico and Central America, Buddy finally gave it a run at touring full time as a solo acoustic singer/songwriter in 2010, playing his Texas Country/Americana originals as well as many popular covers across the state and region.
A seasoned veteran of the music business for over 20 years, Buddy is a Grammy nominated song writer/musician (Latin division) and his love for music and performing has had him chasing the dream, while still keeping in tune to his roots. Over the years, he's written several hits for a number of Tejano and Spanish regional acts, while continuing to hone his own craft at writing, recording and performing.
Successful in getting his music on Texas radio after years of writing songs for other artists, Buddy has been playing throughout Texas and the region full time; determined through the hard work of over 200 shows per year to expose his heartfelt lyrics and original music to as many people as possible that will listen.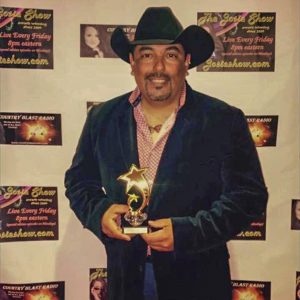 In 2015 things continued moving forward for Buddy. First, he received an endorsement and joined the Electro-Voice Pro Audio family, and afterwards, he was nominated in two (2) categories at The Country Blast Radio Awards held in Nashville, TN. In September, he brought home the win for Modern Country Male Artist Of The Year, a well deserved title that shows in his work ethic.
In 2016, Buddy was again nominated for the The Country Blast Radio Awards, this time in 5 categories!
Loving making music, Buddy continues to write songs from his heart while entertaining audiences throughout Central and South Texas. Buddy's current album Run To Forever released in the Summer of 2017, can be found at several digital download and streaming sites including iTunes, CDBaby, Spotify, and Amazon Music.
In the summer of 2018, Buddy released his newest single entitled Forgive Me also available on all of the aforementioned digital download and streaming sites. In November, he released the much anticipated music video for that single, which you can watch on his YouTube channel here.
Listen to my songs, hear my soul, I Love Texas and Love the music Texas has to offer, I'm glad to be a part of it – Buddy Vargas
His music comes directly from within and it shows, so get hooked on his music and be a fan for life. – Western Author R.S.Wells
You can catch Buddy Vargas at a venue near you, look into his current show schedule or follow along on Facebook. Subscribe to his YouTube channel and follow him on Instagram.
Influences: Radney Foster, Foster and Lloyd, George Strait, Rick Trevino, Diamond Rio, Kyle Park, Randy Rogers Band, All (Descendents), Buddy Holly, Warren Brothers, 90's country, The Smithereens, Lee Roy Parnell and Joe Diffie.